She is FOUNDER of
Overview of her Community work Activity
Rape Victim – Film / Manual & Kit (2004)
Janani Surkasha Yojna (2006)
Crusader of Female Foiticide Since 1998
Crusader of Adolescent health since 1999
Crusader of Movement against Anamia since 2000
Crusader of Movement against uterus removal 2010
Guard your Angel initiative for cancer cervix prevention. Since 2011
Stress Management & LAR workshop for working women & 50 + women
WOW's workshops 1000 ( small group meeting in community on women health)
Ma Beti workshop in slums Over 200 – focusing on girl child & women health
Tuberculosis & Women ( over 20 workshops) both for Doctors /Public
Working women health workshop (over 200)
Time management (25) for professional
How to become productive doctor / Person
Goal setting skills at VVTC / Schools/ Colleges & women workshop (600 sessions)
Aging gracefully workshop for 50 Plus women
RAPE VICTIM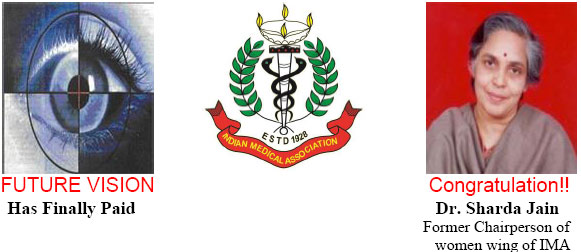 Your hard work & mission of last 12 years to have uniform, meticulous and sincere examination of Rape Victim has been finally implemented in Delhi. Honorable High Court of Delhi has passed the order (April 2009) to ensure that medical examination of Rape Victim in all public Hospital is done using Manual, Kit and Film prepared by India medical Association under leadership of Dr. Sharda jain and Dr.vinay Aggarwal. We are all proud of you both & to be associated with this project from the beginning.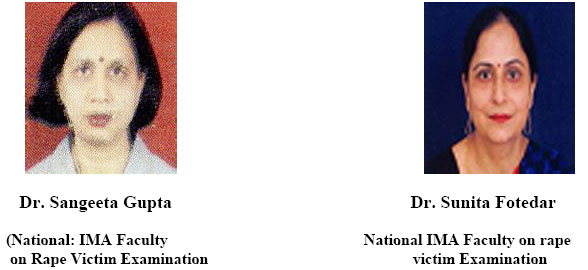 2010
Her Contribution to
Rape Victim Examination
Sexual harassment at workplace is recognized
ADOLESCENT HEALTH
National crusader on Adolescent Health –bringing attention of government and public on this issue
Organised over '800 workshops on Adolescent Health' in schools and colleges in Delhi including medical and nursing schools and vocational institutes for girls in Delhi and Noida.

Organized 23 capacity building workshops for doctors and teachers in different parts of India.
Participated in panel discussion on Adolescent issues and Anaemia and women health on NDTV,Jain TV, Zee TV, Doordarshan, Loksabha TV.
Prepared CD and manual for holding Adolescent Health Workshops for IMA

MOVEMENT AGAINST ANAMIA
National Crusader for Movement Against Anaemia Campaign
Started work in 2000 since then screened over 1 lakh cases in Delhi by Haemoglobin testing . Drawn the attention of Indian Medical Associatin and FOGSI to start National campaign like
Anaemia Free Indian campaign of IMA
12 for 12 initiative of FOGSI
Our recommendations are slowly getting adopted MOHFW and Min. Women and Child Development.
Motivating MCD to movement of Anaemia free children in MCD schools.
FEMALE FOETICIDE
National Crusader Against Female Foeticide
Organizing secretary on Ist National Convention on sex determination on female foeticide , 1999
Grah Nandini (popular Hindi Magazine) – Health column and questionnaire – Regular column since inception.
Ist National meet of religious leaders on female feticide , 2001
One of the main resource persons in organizing Regional and state level workshops of IMA on PNDT Act
Over 250 lectures for dissemination of information about serious implication of menace of female foeticidie and PNDT Act among doctors / NGOs.
Contributed several articles and editorials in IMA Obst/Gynae
Journals and Bulletins and other Specialty Journals on cause of female foeticide/PNDT Act
Conducted Panel discussions on female foeticide on electronic media (NDTV, Jain TV, Zee TV, Loksabha TV). LATEST 2012 moderated panel discussion SAFE GIRL CHILD in Pedicon 2012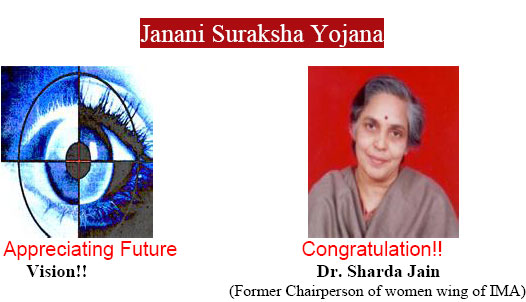 Maternal Mortality in India is declining, but the pace of decline is slow. One woman die every minute from causes related to pregnancy and child birth complications specially if women is illitrerate, poor, landless agricultural labor, staying in slums, or belonging to marginalized group i.e. young, unmarried and HIV positive

Both of you have sincerely & relentlessly persued the cause of very high Maternal Mortality in India by taking a stand on behalf of India Medical Association & Delhi gynecologist forum i.e. "No more home delivery"& "No more expenditure on training of DAIS" with Ministry of Health & Family Welfare (MOHFW).We also extend our sincere thanks to Mr. HOTA former secretary, of Health, Govt. of India for doing necessary correction in prestigious NRHM (2005-12), to ensure institutional delivery for marginalized group of women. Trends of mind boggling institutional deliveries under Janani Suraksha Yojana (JSY) scheme& its unprecedented increase in its beneficiaries is praiseworthy. It is hoped that if this new trend continues, India can bring down MMR tremendously in near future… just like Srilanka
Delhi Gynaecologist Forum


Dr. Anita sabarwal / Dr. S Gupta/ Dr. S Fotedar/ Dr. Jyoti Aggarwal
Maternal Deaths are decreasing in India & we are close to achieve M.D.G. No 5


DGF & WOW India
• Lifetime Achievement award by Delhi Gynae Forum 2011
• Lifetime Achievement awards by LHMC Association 2013

See details of other awards in Biodata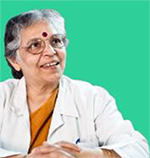 Dr. Sharda Jain
MD. (PGIMER), MANMS, FICOG, FIMSA, DHM, QM & AHO

A woman of many talents, who has a clear vision for the future.
Veteran Teacher and Consultant:

in High Risk Obstetrics, Gynaecology

,

Infertility & IVF, Advanced Gynae surgeries
Founder &Chairman –
11 Gagan Vihar, Near karkari morh flyover Delhi 51
Contact No : 01122414049 / 9650588339
Email.:

sharda.lifecare@gmail.com


Web :

ww.drshardajain.com


Follow her on face book page Dr. Sharda Jain
Teaching Experience
Taught for 2 decades at PGIMER Chandigarh and Lady Hardinge Medical College, Delhi
Delhi Gynae Forum : DGF Training Courses in INF Infertility ultrasound colposcopy & fertility enhancing sugery
PRESENT POSITIONS
PAST PRESTIGIOUS NATIONAL POSITIONS & HONORS
Former Medical Advisor Health – National Commission for Women (2001-2004)
Founder & Chairperson – Women Wing of IMA (2004-2007)
Member – Central Supervisory Board on PC-PNDT Act (2004-2007), IMA Representative
Founder National President – Association of Female Genital Reconstructive Aesthetic and
Microsurgeon of India (2005-2009)
Chairperson – Adolescent Health Committee, AOGD – 2006-2009 March
- Safe Motherhood Committee (AOGD) – 2009-2011 March
Secretary : Society of expert group adolescent Health & Development (2000 – 2009)
Awards
2011
LIFE TIME ACHIEVMENT AWARD by LHMC Alumine Association – DELHI GYNAECOLOGIST FORUM
2006
SOUTHEAST ASIAN PARLIAMENTARIAN AWARD for outstanding work on Anaemia in Women & Children (2006)
2008
Received prestigious LUCY OMEN AWARD for Contribution in Women & Girl Child Health - 2008
2011
PRESIDENTS SCROLL OF HONOUR for exemplary service to – women wing of IMA
2003
SCROLL OF HONOUR for exemplary service - Delhi Gynaecologist Forum (2003)
2006
SCROLL OF HONOUR for exemplary service - Lady Harding Alumni Association (2006)
Excellence awards in community work – DGF /WOW Indian 2010 Rotary Club (work update 2012)
2014
AOGD appreciation Award for significant contribution to AOGD community
2014
Excellence awards of AOGD for starting Delhi Gynaecologist forum
2015
women achiever awards for community work by Dainink Jagran & Delhi police
2015
JIJAJEBAI women Achiever Award of Delhi University
ADDITIONAL TRAINING IN IVF
1992
Hands on workshop in Advanced Hysteroscopic Surgery (FOGSI), Bombay/ Delhi
1994
Hands on workshop in Advanced Hysteroscopic Surgery (FOGSI), Bombay/ Delhi
2000
Observer of ART and IVF Techniques with – Dr. Sadhna Desai (Bombay) - 2000
2001
Observer of ART and IVF Techniques with - Dr. Mehroo Honsotio (Bombay)
2008
Observer of ART and IVF Techniques with - Anup Gupta (Delhi)
2000
FOGSI training course in ultrasound
2008
Hands on workshop micro manipulation in ART (FOGSI, Pune)
2008
Hands on workshop in Embryology (Jointly organized by FOGSI and Cleveland clinic, ohio)
2008
Observer of IVF techniques, Shere Institute of Reproductive Medicine (SIRM) Las Vegas
2010
Observer of IVF techniques, Shere Institute of Reproductive Medicine (SIRM) Las Vegas
2011
International symposium and workshop on IVF and PGD – 5-6th Feb AIIMS (faculty)
AOGD IVF Workshop – 17-18th Feb (Faculty)

RCOG Live workshop on IVF – 7-8th April (Direct telecast from UK)
Understanding Infertility, CME course in Embryologist Aug. 2011 organized by
Cleveland clinic USA.
Fertivision :- Precongress Workshop: - Ultrasound in infertility 8/12/11 Faculty Member.
Fertility 2011(faculty)
Genital TB & Infertility (12 – 13 may ), 2012 Delhi (faculty)
ORGANIZED PROFESSIONAL TRAINING PROGRAMMES AS CHAIRPERSON
IN INFERTILITY/ IVF FERTILITY ENHANCING SURGERIES
National Level – I workshop in Infertility - 2008
National Level – II workshop in Infertility – 2008
National Conference of IVF & Infertility made easy – 2010
IUI – Hands on workshop – 2009 (1)
- 2010 (2)
- 2011 (2)
National Live conference on Advanced Laparoscopic Training – 1993
National (Live conference) on Advanced Laparoscopic Training – 2010
Basic Training course on Laparoscopy hands on workshop - 2010
Workshop on Genital tuberculosis : Dilemma in Infertility – 2010
Three Workshops – East/ South/ West Delhi (2010)
National Live conference on Laproscopy Myomectomy 2011.
2012/13/14/15 – oragising professional training programme in basic infertility / IUI /IVF fertility enhancing surgeries since 3 years

MEMBERSHIPS
Life member if Indian Medical Association

Founder Fellow of ICOG

Life Member FOGSI/ AOGD

Life Member of Indian Society of Assisted Reproduction (ISAR)

Life Member of Indian Fertility Society (IFS)

Life Member of World Association of Laparoscopic Surgeons (WALS)

Life Member of Gynaecological Endocrine Society of India (GESI)